CERN, MTA SZTAKI, MTA WIGNER RCP and the universities of BME, ELTE together with the HEPTech Network are organizing the next
Academia-Industry Matching Event
Machine Learning and Visual Analytics in the Clouds Workshop
The aim of this event is to bring together Academic researchers and Industry experts to share ideas, potential applications and fostering collaborations in the newly emerging field of Machine Learning and Visual Analytics and related technologies.
The event is sponsored by: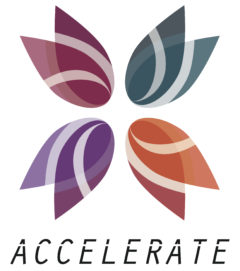 ACCELERATE is a Horizon 2020 project, supporting the long-term sustainability of large scale research infrastructures (RIs) through the development of policies and legal and administrative tools for a more effective management and operation of RIs, with a special focus on ERICs and CERIC in particular.

ACCELERATE has received funding from the European Union's Horizon 2020 research and innovation programme under grant agreement N. 731112
Topics of the workshop include
Machine Learning

Artificial Intelligence

Big Data

Visual Analytics

Quality of Life

Computational Neuroscience

Computational Linguistics

Computational Physics

Cloud Computing Technology

Data Quality

Data Security
Confirmed Speakers
Jean-Marie Le Goff, CERN

András Pataricza, Budapest University of Technology

Róbert Kabai, Continental Ltd.

László Milán Molnár, Robert Bosch Ltd.

Balazs Szegedy, Alfred Rényi Institute of Mathematics

Zoltán Lehóczky, Lombiq Technologies Ltd.

Vince Grolmusz, Eötvös Loránd University

Géza Németh, Hungarian CP for EU AI project

Gergő Orbán, Wigner RCP

Gábor Prószéky, MorphoLogic Ltd.

Gábor Vattay, Eötvös Loránd University

András Benczúr, SZTAKI

András Lőrincz, Eötvös Loránd University

Péter Antal, Budapest University of Technology
Call for contribution
Contributed talks, posters and 1-minute elevator pitches are warmly welcome. Abstracts are requested at the registration.
Competition for young contributors will be organized for the best 2 talks and 2 posters.
Decision on submitted abstracts is coming soon!
Dates 29-30 October 2018
Venue Hotel Mercure Buda, Budapest, Hungary
Attendance 80 seats are available. Registrations are accepted in FIFS order.
Registration fee
100 € for regular participants,
The registration fee is waived for young participants with valid student ID.
Web https://indico.kfki.hu/e/aime18
Contact person szathmari.nora@wigner.mta.hu
Registration
Registration for this event is currently open.
The call for abstracts is open
You can submit an abstract for reviewing.